Yes, I missed posting yesterday.  I had a pretty good reason.  Really.  I was getting ready for a road trip!
Perhaps you've seen me post here on the blog, or on Facebook or Instagram, about how much I LOVE my BERNINA sewing / embroidery machines.  Well, I do.  I've sewn on BERNINAs for years and years!  About a year-and-a-half ago, I became a BERNINA Ambassador, which means I became an "official" BERNINA-lover!  So, I sew on BERNINAs and I tell everyone how much I LOVE BERNINAs, just like I've done for decades, but now I get to have an "official" title (BERNINA Ambassador) while I'm sewing on and praising BERNINAs!  Sweet!!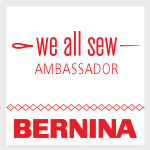 Oh, and I get to commune once a year at the BERNINA USA corporate headquarters in Aurora, IL with a whole host of other BERNINA Ambassadors from all over!  Let me tell you, it is 2 1/2 days of pure BERNINA BLISS!!!
So, I'm on my way to the Chicago area for the BERNINA Ambassador Reunion.  More about that later this week!!
While making our way to BERNINA land, we (Kathy Delaney, a fellow BERNINA Ambassador, and myself) decided to take a quick detour to Winterset, IA to see the Iowa Quilt Museum!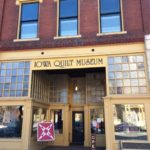 The current exhibit, through January 24, is "Stargazing:  American Star Quilts".  It's a delightful exhibit featuring an eclectic grouping of eight-pointed and six-pointed (my personal favorites!) star quilts………….and one 9-pointed star quilt (maker unknown)!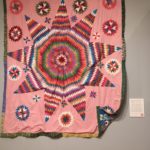 This beauty was designed and pieced by Liz Porter.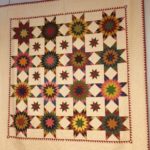 The Iowa Quilt Museum is a beautiful facility located on the square in downtown Winterset, and it is well worth visiting!  If you can't make it before the current exhibit closes, there is an impressive line-up of exhibits to follow!
Our final stop in Winterset was at the Piece Works Quilt Shop located a few doors down from the quilt museum.  The manager, Tony Jacobson, is a delight, as is the shop itself!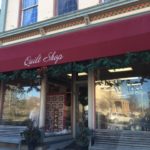 No doubt, as I sleep tonight, there will be visions of star quilts and BERNINAs dancing in my head!!  Sweet dreams, for sure!
May your dreams be filled with such goodness!
Kelly