Workshops: Traditional
all are machine-pieced / machine-based techniques
All workshops presume that participants possess basic machine piecing and rotary cutting skills. Workshops that require at least intermediate piecing skills are delineated as such in the workshop description. Workshops are delineated in their descriptions as 3-hours or 6-hours in length. However, a 3-hour workshop can be easily expanded to 4-hours; a 6-hour workshop can be easily expanded to 7 or 8-hours.
---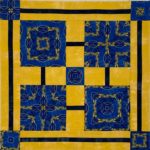 Fussy & Fabulous:  Magic Squares
Explore innovative fussy-cutting producing impressive – and, oh-so-easy – results!  Kelly will guide you through cutting a single fabric to create a variety of unique and magical squares.  No two blocks will be the same…unless you choose to recreate duplicates!
6-hour workshop.  Skill level:  adventurous beginner and beyond.

Drunkard's Path
If you have a fear of curved-piecing, Kelly has the cure for your fears! Minimal pinning – really! You'll be amazed at how quickly your blocks will be finished.
Skill level: confident beginner and beyond. 3-hour or 6-hour workshop.