Virtual Lectures and Workshops
Let's Go Virtual!
I am pleased to be able to offer virtual presentations and workshops for your guild!  My presentation fee is $400, and my workshop fees start at $350.  If using my Zoom account and more than 100 seats are required, additional fees may apply. My virtual offerings are as follows:
Virtual Presentations:
 Sixty Degrees of Inspiration:  Hexagons, Diamonds, Triangles, & More

Based on Kelly's book, Hexagons, Diamonds, Triangles, & More offers SO MUCH eye candy for quilt lovers!  Kelly shares many antique and vintage quilts and tops that are made from a variety of the 60-degree family of shapes, relating how these shapes fit and work together and compliment one another.  She also shares quilts from the gallery of her book and new quilts that she has designed and created since her book's release.  Sixty-Degree inspiration abounds!  60 minutes (+ or -).  Kelly always invites and enjoys Q&A.

Fussy & Fabulous:  Let the Fabric Work FOR You!

Have you ever seen a beautiful, large scale print and immediately thought "border" or a stripe or linear print and thought "no way!"?  Perhaps those thoughts can be shifted!  Fussy-cutting can take a quilt block from OK to SPECTACULAR!  Through word and examples, Kelly will guide you through her method of categorizing fabrics for fussy-cutting.  She'll show you some examples of "traditional" fussy-cutting (strategic placement of motifs within blocks), and she'll also show you in step-by-step pictures how to do some fun, less-than-traditional fussy-cutting methods with eye-popping results.  WARNING:  After this lecture, you likely will never look at fabrics in quite the same way again!  60 minutes (+ or -) plus time for Q&A.
Virtual Workshops: 
Sixty-Degree Workshops:

Tumbling Blocks:
Tumbling Block is the simplest quilt block requiring set-in seams ("Y-seams").  Kelly knows many quilters have anxiety when it comes to Y-seams, and she did, too, once upon a time.  Now, she can't imagine her quilting life without them!  Let Kelly show you how easy it is to successfully sew set-in seams, cluing you in to all the tips she has at her disposal!  You can make this project as small or as large as you wish, so show up with a little fabric and let Kelly help you make patchwork magic!  C'mon, give it a try!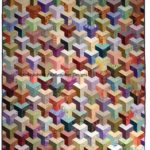 Inner City:
Inner City with its depth and dimension is a visually stunning quilt!  Yes, there are set-in seams ("Y-seams"), and Kelly will show you how easy they are to master while guiding you through the block and setting construction of this project.  This quilt can be made as small or as large as you wish, so you needn't purchase a lot of fabric prior to class.  Learn the technique, then you can make any size quilt you want!
Inner City and Tumbling Blocks can be scheduled together as a "hybrid" workshop for a guild, taught in tandem.  Each participant will learn how to construct both blocks and setting techniques. Two workshops in one!!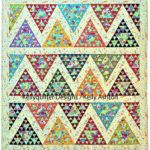 Painted Mountains:
Painted Mountains is a colorful, interesting quilt with an unusual setting.  A study in proportional equilateral triangles, Painted Mountains is all "regular piecing" – NO set-in seams in this one!  The blocks come together quickly, and the setting may just surprise you!
Fussy-cutting Workshops: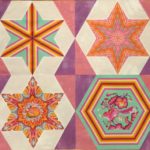 Fussy & Fabulous – Coexist: 
Get the best of both of Kelly's worlds:  60-degree fun and fabulous fussy-cutting!  In this four block wall-hanging, the participant will learn how to strategically cut fabric for the blocks to yield stunning results, how to construct the blocks, and how to turn a hexagon into a rectangle!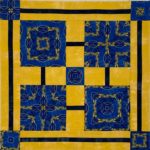 Fussy & Fabulous – Magic Squares:
We'll take one fabric and cut it up using Kelly's Magic Square technique to create blocks that will WOW!  This technique is quick and easy and SUCH FUN!!  Like potato chips, I'll bet you can't stop with one!