As a quilt-maker, I'm pretty precise:  in my cutting, in my piecing….  When it comes to cooking, well, not so much.  Recipes are merely guidelines in my kitchen.  🙂
I so enjoy soups and stews, especially in the winter!  Today, I want to share my recipe for Spicy Chicken Sweet Potato Stew.  I LOVE this stew! 
It is a delicious mix of sweet and savory, with just a little heat thrown in.  Of course, you can make it as hot or mild as you wish!
Here's what you'll need:
Chicken (cooked), 1 1/2 lb. or so, cubed (I used thighs)
3 large yams / sweet potatoes, peeled and cubed
1 Onion, chopped (I used Vidalia)
1 Red bell pepper, seeded and chopped  (poblano peppers are good, too)
Garlic, chopped (2 T. or so)
Corn, 1-2 cans (drained) or 1 bag frozen (thawed)
EVOO
Chicken stock or broth (64 oz. or so)
Cumin
Cinnamon
Mrs. Dash Southwest Chipotle seasoning
Salt and pepper
1-2 Jars (16 oz) of Chipotle Salsa (I usually add 1 1/2 jars of a medium-heat salsa for my taste)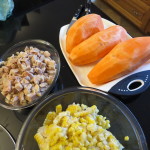 Saute (medium heat) the chopped onion and red pepper in the bottom of your large soup pot using a couple teaspoons or so of EVOO until the onions begin to turn translucent.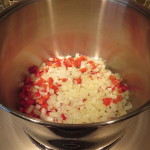 Add the cubed sweet potatoes  and the chopped garlic to the pot; cover and cook on medium heat for 2 – 3 minutes more, stirring occasionally.
Sprinkle the onion / bell pepper /sweet potato mixture with one generous teaspoon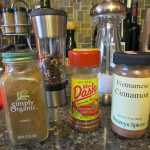 each of cumin, cinnamon, and Mrs. Dash Southwest Chipotle seasoning.  Stir to mix.
Add approximately 64 oz. of chicken broth or chicken stock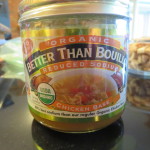 and bring to a boil.  I often use – and really like – Better Than Broth.
Add cooked chicken, corn, and salsa (I love Whole Foods 365 brand Roasted Chipotle salsa in this stew.)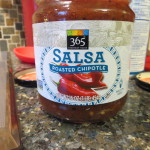 Return to boiling, then cover,  reduce heat and simmer on low for at least an hour. By now, your home should be filled with a wonderful aroma!
Continue to add cumin, cinnamon, Mrs. Dash Southwest Chipotle seasoning, salt, and pepper to taste.  I like bold flavors, so I usually end up adding at least one more teaspoon each of the cumin, cinnamon, and Mrs. Dash seasoning throughout the tasting / seasoning process.
This recipe makes a large pot of stew! 
Isn't it beautiful?
If you like beans, a can of drained and rinsed black beans would be great added to this stew, also.
Enjoy!