I adored my Mamo, and my Mamo adored me.  Though she died when I was in 4th grade, Mamo, my paternal grandmother, has had an indelible impact on me.
Born in 1886, Mamo (Edna Bertha Steven) grew up on a farm in central Nebraska, learning all the typical things that a farm girl of that period learned, including quilt-making.  Though I never had the pleasure of seeing her making a quilt, she has played a pivotal role in fanning the flames of my hexagon quilt-making passion.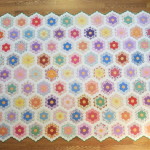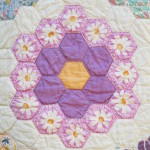 [Mamo's Grandmother's Flower Garden quilt which is pictured in the introduction of my book, Hexagons, Diamonds, Triangles, and More (Martingale, 2014)]
In spite of her "typical" upbringing, she was fiercely independent (yes, I come by it honestly!).  That, coupled with well above average intelligence, led her to attend – and graduate from – the University of Nebraska, circa 1907.  Then, she and her sister embarked on an adventure, boarding a ship and sailing to Europe for a period of time.  Did I mention she was independent?  🙂
Mamo was also a great cook, and, in addition to having several of her quilts, I also have her personal cookbook!  One of my favorite recipes is Mamo's Peanut Butter Shortbread Cookie recipe.
You'll need only four ingredients:  butter (1 C. – room temperature), peanut butter (1 C.), brown sugar (1 C. packed) and flour (2 1/2 C)
Preheat the oven to 350 degrees.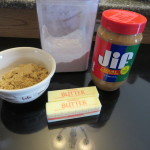 I use salted butter, Jif, C&H brown sugar, and King Arthur's flour.
Cream the butter, peanut butter, and brown sugar together.
2.  Next, gradually add in the flour, mixing on low speed until the flour is well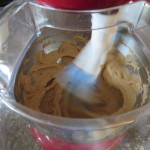 incorporated.
3.  Drop the cookie dough by rounded tablespoons-full onto an ungreased cookie sheet.  Gently flatten with a fork.
4.  Bake for 11-15 minutes until the edges begin to turn golden brown.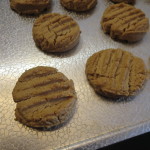 5.  Remove from oven and cool cookies on cookie sheet for 10 minutes, then remove cookies and place on wire rack to cool completely.
These cookies aren't "officially" shortbread.  Did you know that shortbread, by definition, is one part sugar, two parts fat, and three parts flour?  I didn't until very recently!  Mamo's Peanut Butter "shortbread" cookies are one part sugar, two parts fat, and 2 1/2 parts flour.  Close enough for me!!  Enjoy!