Why hexagon quilt patterns?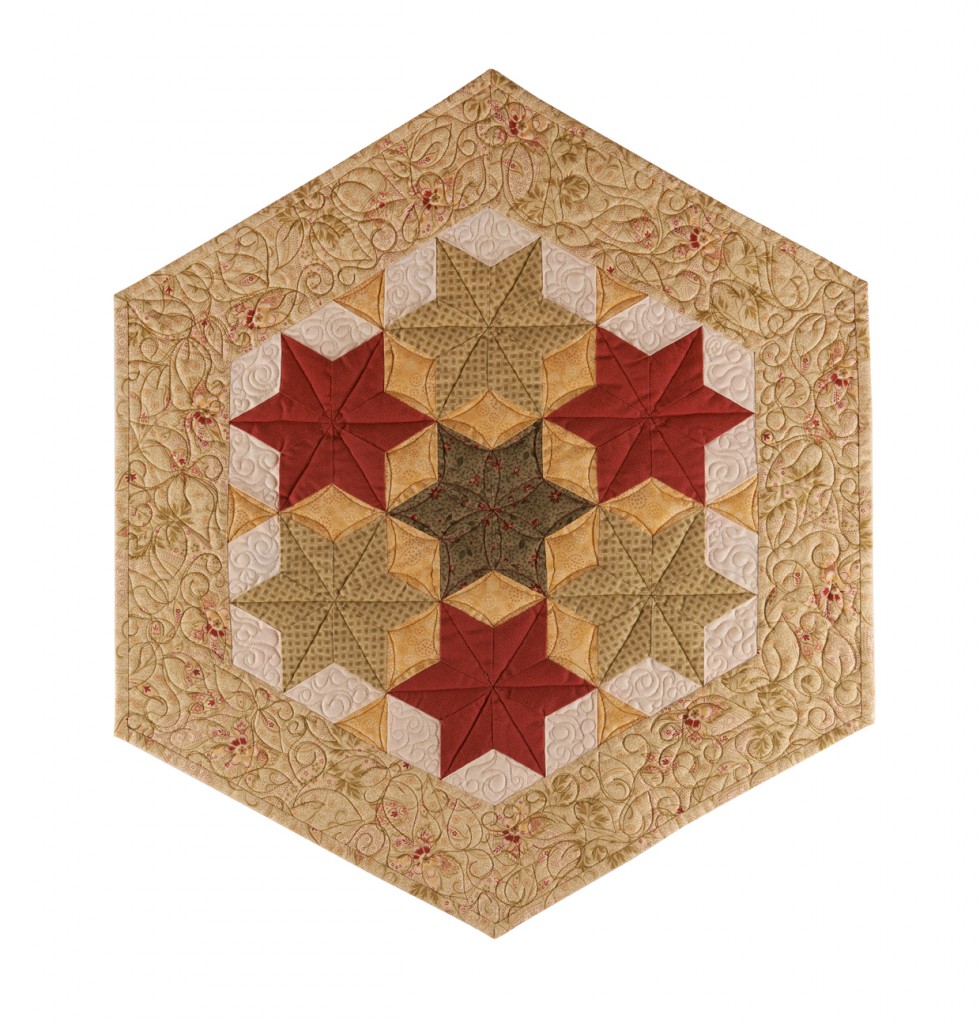 Even before I began making quilts, I was fascinated with hexagons.  My grandmother made a Grandmother's Flower Garden quilt long before I was born, hoping she would have a granddaughter to pass it to.  I was shown the quilt when I was a little girl, knowing that it would someday be mine.  I've loved hexagons ever since!
When I began making quilts, my intrigue surrounding hexagons and related shapes grew. It was a personal goal of mine to master the art of the hexagon.  And, mastery didn't take long!!  Adding hexagons (and other 60-degree shapes) and hexagon quilt patterns to your quilt-making repertoire adds a new dimension to your quilt-making!  The shapes, themselves, and the blocks that emerge from their use are interesting and unique, therefore the quilts that grow from them are pretty amazing!
Are hexagon quilt patterns too difficult for a beginner?
The simple answer is: NO! Though I wouldn't necessarily recommend that a hexagon quilt pattern be the first quilt a newbie quilt-maker attempts, I have had many quilters who have described themselves as "new" or "novice" in my 60-degree classes.  They have mastered the set-in seam ("Y-seam") as easily as the more experienced quilt-makers have!  My book, "Hexagons, Diamonds, Triangles, and More" has a section on sewing set-in seams by machine that includes excellent step-by-step diagrams for set-in seam mastery.  And, there are two introductory "hexagon quilt patterns" in the book that are wonderful projects for the new-to-Y-seams quilt-maker!
When should a quilter begin their quest to learn hexagon quilt patterns?
As soon as she/he has an interest in making a hexagon quilt pattern!  Truly, the set-in seam isn't difficult to execute!  And, once that simple technique is added to your quilt-making toolbox, a whole new world of block and quilt possibilities opens up!
Many hexagons quilts and many years later, I'm still fascinated with hexagons and sixty-degree shapes. As a result, Kellyquilter Designs currently offers several  different hexagon quilt patterns for quilt-makers with more on the way!  Enjoy!