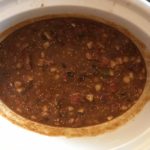 I was talking with my friend, RaNae (RaNae Merrill, ranaemerrillquilts.com, author of Free-Motion Mastery in a Month) the other day, and she told me about this great recipe that she found online:  Pumpkin Quinoa Chili.  She RAVED about it.  I had a little medical procedure yesterday (the routine screening one that requires a "prep" – you know the one….), and today, I was feeling like something hearty, warm, and comforting would be just the ticket.  I had all the necessary ingredients in my pantry, so I whipped out the crock pot, dumped the ingredients, and dinner is simmering away!
The recipe is from simplyquinoa.com and is here.  I made a few tweaks to the original recipe:
 I used a mixture of red, yellow, orange, and green bell peppers.
 In place of vegetable broth, I used up some already-open containers of beef and chicken broth that were in my refrigerator.
I used a smokey Hungarian paprika in place of regular paprika.
I added 1 tsp of Vietnamese Cinnamon (in addition to the seasonings listed in the original recipe).
I did not add salt as my broths had salt added.
I'm enjoying the aroma of my simmering chili already!!  I've never had Pumpkin Quinoa Chili before.  If it tastes as good as its aroma, I'm gonna love it!  I'll let you know!