After taking in the enticing aroma of the Pumpkin Quinoa Chili all afternoon, in the final moments before dinner last night, I decided to add a bag of frozen sweet corn to the mix.  I often add corn to my "regular" chili.  I like the additional sweetness and texture that the corn adds.  It worked well in the Pumpkin Quinoa Chili, too.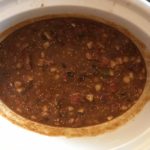 The Pumpkin Quinoa Chili scored big at our house! Just as I'd hoped, this delightful concoction was hearty and great comfort food, healthy and satisfying!  DH Jeff and I both loved it, and it is definitely on the "will fix again" list!!  
Until next time, quilt (and cook) long and prosper!!