Yes, I'm aware that January is almost over! (BTW, how the heck did THAT happen!  Seems I blinked and nearly four weeks have passed!)  January has absolutely been a "hibernation" month for me.  The short, often sunless days and the long, dark nights have yielded early bedtimes and more sleeping than usual.  "Creative Sleep" instead of "beauty sleep"!  I'm well-rested, for sure.  And, I've been making good use of my awake time by designing and piecing (of course!!) some new blocks and doing some (long overdue, much-needed) studio reorganization.  🙂
Here's one of my newly-designed quilts that I finished in December.  I gave you a "teaser picture" of a corner in a blog post in early December.  "Sangria" is part of my "Hexie Meets Dresden" series.  The pattern and acrylic templates will be available in my web store soon!  (FYI:  If you're on Facebook, please "like" my professional page, Kelly Ashton:  Quilting Lectures & Workshops, and you'll be notified when new blog posts are up and when new items are added to the store!)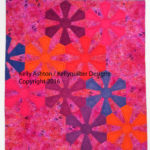 This is the first quilt that I've applied a "faced binding" to finish the edges, and I really like it – especially for a quilt that I anticipate will be hanging on a wall.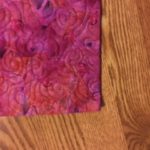 Have you used "faced bindings" on any of your quilts?  If so, do you like them?  If not, are you interested in trying one out?  I'd love to hear about your experiences with and/or impressions of faced bindings!
Happy stitching!
Kelly
PS  All the stuff in my blog (information, tutorials, photos, images, etc.) is the property of Kelly Ashton / Kellyquilter Designs / kellyquilter.com.  If you re-post, pin, or share in any way, please attribute the work to Kelly Ashton / Kellyquilter Designs.  If you have questions or wish to use my work in any other way, or if you're interested in having me give a presentation and / or workshop, please contact me at Kelly@kellyquilter.com.  Thank you, and have a beautiful, creative day!