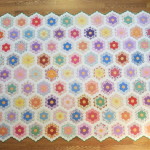 There is no place that I can begin "Spectacular Antique Quilt Sunday" except with one of my Mamo's quilts.  Mamo (Edna Bertha Steven Ashton) was my paternal grandmother.  Born in 1886 in rural Nebraska, Mamo learned all the "ordinary" and essential homemaking skills of the day, including quilt-making.  However, my Mamo was anything but ordinary.
Fiercely independent (Hmmm.  An inheritable trait, perhaps???), she loved to push the limits of convention.  She attended and graduated from the University of Nebraska circa 1907.  In 1910, she and her sister, Leanna, boarded a ship for Europe.  Among other adventures, they attended the Passion Play held in Oberammergau, Bavaria, Germany.  At some point after returning from Europe, she met my grandfather-to-be.  They married in 1912 and my dad, their only child, was born in 1913.
The above pictured quilt was hand-pieced and hand-quilted by Mamo in the early 1940s after my dad, her only son, went off to war.  She lovingly made the quilt with the hope that her son would return safely from the war, marry, and have a child for whom this quilt could be given.  Turns out, that's me!
Check out the fussy-cutting!!  Many blocks were created from carefully fussy-cutting the fabric.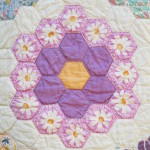 This is the quilt that sparked my intrigue with hexagons!  That intrigue grew into a passion which now includes a variety of shapes in the "sixty-degree family".  (My book:  "Hexagons, Diamonds, Triangles, and More:  Skill-Building Techniques for Sixty-Degree Patchwork".)
Mamo, you have given me one of the greatest gifts, ever! Thank you!!