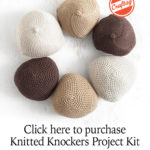 (Image borrowed from the Craftsy website.)
Knitters and Crocheters (or wannabes), if you are in a giving spirit and are itching to make a difference, have I got a great idea to share with you!!!  Knitted Knockers!!!  Yes, really!!!
If you have ever known someone who has undergone mastectomy, then you likely also know the challenge of breast prosthetics for women.  Most "traditional" prosthetics are made of silicone or other similar materials.  They are hot.  They are heavy.  Basically, though better than nothing (usually), they suck (often).
Well, I have learned of an organization that offers a FABULOUS ALTERNATIVE  to traditional breast prosthetics:  knittedknockers.org  You will find a very informative and moving (short) video on the home page, and their website has LOTS OF INFORMATION!
I learned of this amazing Knitted Knockers organization through Craftsy (have I told you lately what a quality, classy organization Craftsy is and how very pleased and proud I am to be a Craftsy Instructor?  Well, they are, and I am!!!!)  Craftsy has teamed up with Knitted Knockers to provide quality yarn "kit" to make Knitted Knockers with a portion of the proceeds going back to the Knitted Knockers organization!  Bravo, Craftsy!!!
Knitted Knockers can be knitted or crocheted – there are patterns available for both when the kit is ordered from Craftsy or on the Knitted Knockers website.  Though not a "beginner-level" pattern, there are even video tutorials on the website.  I am a fairly novice knitter, and I really want to make and donate some knitted knockers.  So, believe you me, I plan to check those videos out!!
Did you know that 1 in 8 women living in the U.S. (cancer.org) will be diagnosed with breast cancer at some time in their life?  Please, do your monthly breast exams!  Please, get your recommended mammograms!!  Early detection is so valuable!!!  "The Girls" will thank you.  So will your family and friends.  And, please consider creating and donating some Knitted Knockers for someone who could use them!  Thank you!