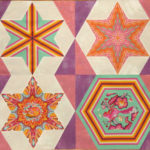 Remember this sample that I showed on "Day 1",  posting that sometime this month I'd be sharing some news?  Well, today's the day!
I'm very excited to share that I'll be teaching from this sample on Sunday, January 27, 2017, from noon to 6 pm at Gotham Quilts in   New York City!  I can hardly wait!!!
So, if you're going to be in NYC in late January and you'd like to join the fun, or if you want more information, click here.  Hope to see you in the Big Apple!!!